In the framework of the project "Towards rehabilitation and social reintegration of prisoners back into society with the concentration on female prisoners" which is funded by Drosos Foundation thus  Life Foundation for Development and Community Integration use it to offer rehabilitation and community integration services to prisoners and through the psychological unit which includes group therapy techniques, life skills, small interventions and art therapy as well as music for the group or the individual, with concentration on sessions and art therapy workshops for the cases we deal with, based on the basis that art is a tool that allows those cases to express their pain and drop their emotions of the painful experience they had in prison.
Even though art therapy has recently spread, yet some still see it as nonsense but let's take a living example that shows us that painting is means to express pain and different experiences, as well as a method to face loneliness and a method to fix problems as well as a way of living; it's "Frida Kahlo" who confirmed that when reality is painful ,we paint. When life disappoints us, we paint. When we need healing, we paint.
Frida Kahlo is a famous artist in the history of art, she used to paint everything she went through whether it was her struggles or personal experiences, she discovered her talent when she was injured in an accident and started painting herself with everything she was going through when she discovered her husband's infidelity, when her leg was amputated, when she miscarried and her struggles with her husband and family until she became one of the most famous artists, and after her death, her story had been turned into a movie and was rewarded many awards.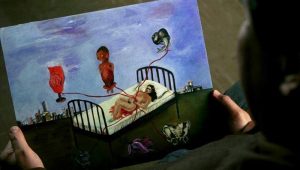 Frida Kahlo is a Mexican artist who has achieved big international popularity, born on 6th July 1907 in Coyoacan, Mexico to a Jewish father and a Mexican mother. Kahlo was contracted by polio, which made her right leg shorter that had affected her psychological state, she used to wear woolen socks with dresses to hide her handicap, she was ale to overcome her handicap. Polio was not the only disease that Frida Kahlo has suffered from, she also got hit by a car that left her with a broken spine and she had to stay laying in bed for a whole year without moving at all.
One of her most famous quotes is " I paint self-portraits because I am so often alone, because I am the person I know best". In the time of her injury, her mother had installed a huge mirror above her bed which was the "spark" that had ignited Frida Kahlo and made her discover her gift with painting, hence this mirror had allowed her to constantly see her face and from there she has decided to ask her mother for paper, brush and colours to paint, she then met other painters who helped her, most significant of them was "Deigo Rivera" who then became her husband.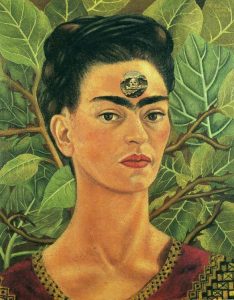 Her paintings were characterized by their simplicity and realism since they contained a lot of details from her life and her sufferings which was exhibited by the look of hurt in her eyes, frowning and crossed eyebrows (in the shape of a crow) were proof of the misery and pain along with the bleeding wounds and the restrained body in many restraints including a cast,  she also painted people as tree leaves which reflected her view of her self and how she sees the world, artists used to describe that her paintings were surreal but Frida said afterwards "They thought I was a Surrealist, but I wasn't. I never painted dreams. I painted my own reality".
Frida Kahlo was married on 21st August 1929 to Deigo Rivera who was 20 years older than Frida, being 41 and Frida was 21 at the time, her mother had refused this union and described it as a "marriage between and elephant and a dove", although Deigo had many infidelities his marriage had lasted 10 years yet ended when Frida discovered his infidelity with her younger sister Cristina, but remarried him after a divorce that lasted a year.
Although Frida Kahlo had a tormented body yet her will was so strong that she was able to overcome her handicap and take advantage of her talents, painting was the only method that allowed Kahlo to express her pain and torment, and make a beautiful embodiment in those paintings and that may be why she found the only numbing remedy to her pains and with that becoming one of the most famous artists in the world.
In her last years, Frida suffered bronchopneumonia, and her right leg was amputated to the knee due to gangrene. Frida died on 13th July 1954, she was 47 years old. In accordance to her wishes, Kahlo was cremated and asked that her ashes are to be mixed with her husband's as well as turning their home into a museum.

Frida said before her death "I joyfully await the exit – and I hope never to return", by those words Frida had meant that now the curtains close on a life filled with pain and ecstasy that used to come in fountains exploding from within her.