Within the framework of the dialogue symposium that will be held next Monday in Zagazig City, Life Foundation will re-discuss the report of its campaign "Our Girls are not for sale" held in 2016-2017, to monitor the government efforts activated by the Foundation since the end of the campaign till now in the campaign's governorates ElSharkia, Ismailia, and Port Said.
Life Foundation also will redefine (Victim and committer) from the reality of rural community where the campaign was in.
The Foundation will present its vision in 2019 to implement the campaign again in different ways and mechanisms in cooperation with social stakeholders.
Report of the campaign of Anti Tourism Marriage held in the governorates of ElSharkia, Ismailia, and Port Said from 15 Feb 2016 to Feb 2017
After the phenomenon began to decline in our society and was carried out undeclared, The phenomenon of tourism marriage has re-emerged in the society and predicted the imminent danger that goes deeply into the society especially in the poor class under so many names and reasons because of the compelling social circumstances of some families who marry their daughters to a rich man to escape poverty and protect girls, where this type of marriage was common particularly in rural regions as ElSharkia it becomes common equally in many cities as Ismailia and Port-Said, In addition, some of the girls were deprived of the school by encouraging or pressure from the parents for marriage chance.
There are an alarming number of cases came to Life Foundation lately
A nineteen years old girl came to Life Foundation; and her story is that when she was thirteen years old, she married to a rich Saudi man, is 38 years older than her, and she was the second wife. She met him through a woman works as a matchmaker in the village for a fee; she married him to help her young brothers to bring up and provide expenses for them. He bought a house for her and her family, she lives alone in a flat in the same house, and he used to come to Cairo for three years each year. This girl told us that she dreamed of marrying her neighbor. Recently, her brothers hit her because of the complaint of her husband that he is not satisfied with their close relationship, which led her to try to kill herself because of her fear that he refuses to help her brothers.
She begun therapy in the Foundation and the team educated her family with the gravity of that and the need of getting the divorce, and raised awareness of her brothers to earn the expenses by themselves and not to sacrifice their sister. The girl has mentioned during the discussion with her that the phenomenon of tourism marriage is common in her district.
In the context of Life Foundation implementation of the activities of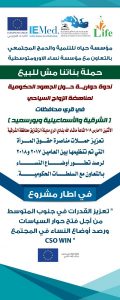 Project "Strengthening the capacities in the southern Mediterranean to initiate the policy dialogue and monitor the situation of women in the society" CSO WIN
Promote advocacy campaigns for women's rights organized between 2017, 2018 to monitor the situation of women in collaboration with government authorities